Hartge Yacht Harbor is staffed with experienced knowledgeable mechanics ready to keep your engines reliable and safe. HYH will gladly provide a survey/analysis of your engine and recommend repairs and maintenance schedules.
The following services are available for sail and power boats:
Repair and repower engines
Shaft alignment and engine mount replacement
Complete cooling system service
Transmission repair and service
Engine tune-ups
Fuel system polishing and stabilization
Steering and trim tab/stabilizer repair
Batteries and charging systems
Fluid analysis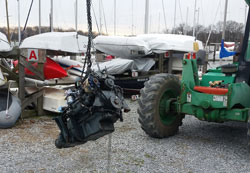 We at Hartge Yacht Harbor do our best to be environmentally responsible. Painting outside is no longer environmentally acceptable so we have designed a climate controlled indoor facility where we transform your prized investment with a stunning and durable new hull surface.
A state of the art filtration system provides the contaminant free air so necessary for a dust free coating and our factory trained painters are highly skilled and experienced technicians with an eye for detail and a passion for perfection.
Let our specialists refinish your hull with AWLGRIP & ALEXSEAL
Call us at (443) 607-6306 for an estimate.
The preparation of the surface is of the utmost importance. An excellent paint job is only as good as the preparation, and the boat must be sanded, filled, sanded and filled some more.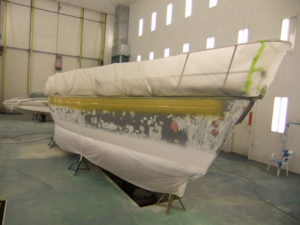 The boot stripes and cove stripes are an important part of the process, and particular attention is paid to these details. The actual spraying takes a talented technician, proper ventilation, and even flow.
The final product after all the hardware is re-installed is truly a beautiful sight. A new Awlgrip or ALEXSEAL boat shines on!
Consider reviving your investment with new paint; the results will amaze you! We welcome inquiries, and will provide a tour of the facility and a free estimate.
AWLGRIP is a leading worldwide supplier of topside finishing systems to not only beautify, but also protect your yacht, no matter how big or small.
MARINE DESIGN-CARPENTRY
Bernhard Willem, Owner & Operator
Tel No.: (410) 703-4746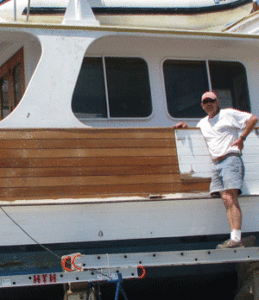 Originally from Germany, Bernhard has a long history of marine related experiences. He has logged almost 40,000 miles at sea and lived aboard many boats since 1989. He has survived several hurricanes at sea and enjoys relating the tales of his travels. From 1983 – 2000 Bernhard served as first mate aboard several vessels in the U. S. Virgin Islands and has delivered several private yachts across the Atlantic Ocean. He has worked off shore in marine construction and has been a charter boat captain also. He has worked as an independent contractor on general marine repair projects throughout St. Croix. From 2004 – 2008, Bernhard managed Selby Bay Yacht Basin on the South River which included the repair and maintenance of the facility. His responsibilities included sales, marketing, fuel pier management, and dock maintenance. Since 2008, Bernhard has worked as an independent contractor specializing in carpentry. He is also well versed in many other types of boat repair.
His shop is located in building #4 between 30 and 60 docks. He is here on the property most of the time and would be delighted to discuss any carpentry needs you may have.
EASTPORT SPAR & RIGGING
John Callewaert, Owner & Operator
Tel No.: (410) 867-6633
Cell: (410) 808-7380
Email: esr_llc@msn.com
Eastport Spar & Rigging is located in the west bay of the paint building. Owned and operated by John Callewaert since 1984, ESR moved from Annapolis to Galesville and is ready to serve all of your rigging needs. The company provides professional services tailored to the specific requirements of cruising, racing, and offshore sailors. Beginning with a rigging survey, ESR will step your spar and tune your rig, repair and install spinnaker poles, replace standing and running rigging, and service roller furling systems. ESR also offers life-line installation, winches and windlass servicing and installation, and centerboard and rudder repairs. ESR specializes in custom fabrication and welding work, either in stainless or aluminum as well as mild steel. They have fabricated stanchions, pulpits, fuel and water tanks, radar arches and posts, davits, and many other items. John Callewaert's 25 years of expertise and experience is something every boat owner should take advantage of.
The shop is open six days a week and Sundays by appointment.
YACHT BROKER: Hartge Yacht Sales